Attractive Tourist Places
Nainital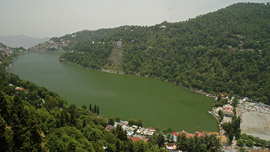 Nainital is a glittering jewel in the Himalyan necklace, blessed with scenic natural splendor and varied natural resources. Dotted with lakes , Nainital has earned the epithet of 'Lake District' of India.

Mussoorie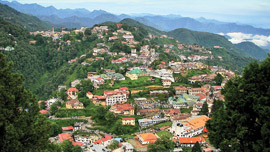 Known as the 'Queen of Hills', Mussoorie is known for its scenic views, its lush green hills. Trekking is a major activity, tourists can enjoy horse riding or a leisurely walk across Camel's Back Road and watch the sunrise from here. The Jharipani Falls, Bhatta Falls, and Kempty Falls are the three well-known waterfalls in Mussoorie. A ropeway ride to the top of Gun Hills is one of the main attractions of the town. This 400-meter ride offers a view of the Himalayan ranges including Bunderpunch, Srikantha, Pithwara and Gangotri group and provides views of Mussoorie town and Doon Valley.

Kausani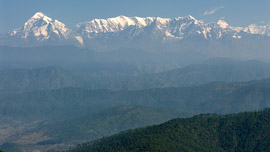 Kausani is a celebrated site for its panoramic exquisiteness and views of enchanting Himalayas. Nature has bestowed Kausani with its beauty to make it a destination par-excellence level.

Mukteshwar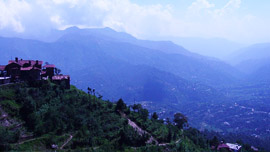 The hill station is a popular scenic spot and known for providing views of the Himalayas and its other ranges. Mukteshwar is surrounded by dense coniferous forests and fruit orchards. These evergreen forests and the woodlands have bird species like Himalayan ruby throat, white-crested laughing thrush, red-billed leothrix, and black winged kite, along with many mountain birds. The fruit orchards and farms in these forests are popular for apples, plums, peaches, apricots, and pears. Around this area, the rhesus monkeys, langur jabbers, deer, rare mountain birds, mountain leopards and Himalayan black bears can be easily seen.

Ranikhet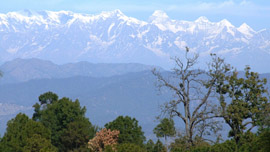 Ranikhet is a picturesque hill station and a cantonment town in the Almora district of Uttarakhand. Ranikhet is a popular hill resort well known for the views of the mighty Himalayas. Surrounded by Himalayan mountain ranges Ranikhet is situated in the upper Kumayun Hills.

Chaukori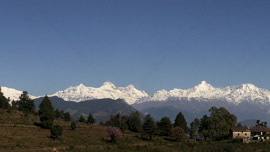 Chaukori is a small hamlet situated in Pithoragarh district in the province of Uttarakhand. The destination is enveloped in the midst of forests of pine, oak and rhododendron. A small hill station of Pithoragarh district features innumerable sights along with the view of peaks like Nanda Devi and Nanda Kot. There are several tea estates in and around the hamlet.

Almora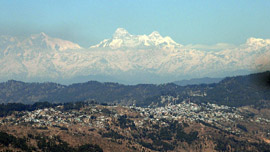 Located on a five km long ridge which is shaped like a horse shoe, Almora is a quaint town in Kumayun Hills in the Himalayan range, offers amazing views of the snow capped mountain peaks of the Himalayas. The Kosi and Suyal rivers run alongside the town adding to the beauty of the place. It is surrounded by the hill ranges of Kasar Devi, Banari Devi, Shayahi Devi and Katarnal.

Binsar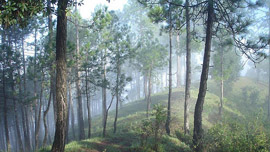 Located amidst dense green forests Binsar is famous for the Binsar Wildlife Sanctuary. The place is known for its greenery and is surrounded by virgin forests of oak, rhododendron, pine and deodar all around. It is believed that over 200 varieties of birds are found in Binsar along with animals like deer, leopards, Himalayan bears, monkeys, foxes, flying squirrels and many others, making it a popular destination for wildlife enthusiasts. The snow-covered peaks of Nanda Devi, Nanda Kot, Kedarnath and quite a few others are clearly visible form Zero Point.

Munsiyari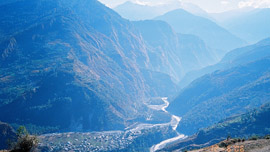 The name of this town literally means 'a place with snow'. Munsiyari serves as the base camp to glaciers like Ralam and Milam for trekkers. Deodar and pine trees, rhododendron plants and numerous small waterfalls contribute to the scenic beauty of this town. The town is situated on the banks of River Goriganga on the ancient salt route that originates from Tibet. Placed at the entrance of Johar Valley.

Lansdowne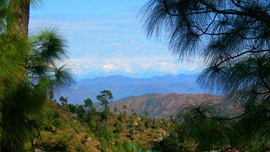 Lansdowne is a small picturesque hill station, preferred for its comfortable weather and scenic beauty. The lush greenery of the thick oak and blue pine forest that surrounds Lansdowne adds to its beauty and charm, making it ideal for trekking and nature walks. Trekking to Tip-in-Top or Hawagarh, bird watching, boating and paddling in the Bhulla Tal, etc are the main activities here.

Lohaghat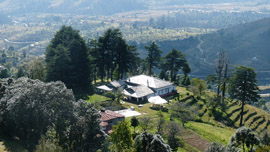 Lohaghat holds a historical and mythological significance, which make this site an ideal tourist destination from Champawat. It is located on the banks of Lohawati River and is known for burans flower, which blossom during the summer season.

Haridwar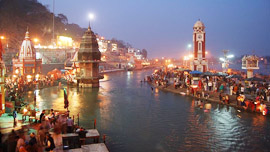 Haridwar or 'the Gateway to the Gods' is considered as one among the 'sapta-puris' and is an important pilgrim destination. The main pilgrimage spots in Haridwar are located along the banks of the River Ganga. Haridwar is also the venue for the famous Kumbh Mela. Some historical shrines are Har-Ki-Pauri, Chandi Devi Temple, Mansa Devi Temple at Bilwa Parvat, Vaishno Devi Temple, Bharat Mata Temple, Maya Devi Temple, Bhimgoda, Shanti Kunj, etc.

Kedarnath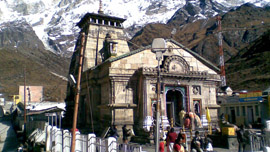 Kedarnath lies at a height of 3584 m above sea level and is one of the 'char dhams' identified by Hinduism as the most religious places. The place remains active only six months in a year during the summer months. It receives heavy snowfall during the winter months which makes it uninhabitable. Kedarnath is the least accessible of all the four dhams. It's a 14 km steep climb to the temple of Kedarnath and can be done on foot, on ponies or via a helicopter.

Badrinath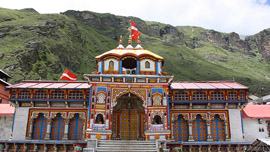 Located in the Garhwal ranges along the banks of River Alaknanda near the India – Tibet border, Badrinath is one of the four sites of Char Dham pilgrimage. Surrounded by Nar and Narayana mountain ranges and the Nilkantha peak, Badrinath has great mythical significance. Badrinath town is famous for Panch Badri temples, which are Yog Dhyan Badri, Bhavishtya Badri, Adi Badri and Vriddha Badri, along with Badrinath temple.
---