Attractive Tourist Places
Rome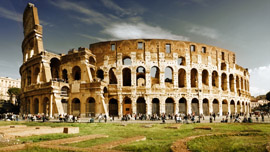 Formerly the capital of the Roman Empire, Rome today is the government seat and capital city of Italy. Located in the country's central region of Lazio, Rome is a vast and complex city that is both historic and modern at the same time. Best known for housing ancient Roman structures and the Vatican City, Rome has endured for more than 2,500 years as an important center for culture, power and religion.

Venice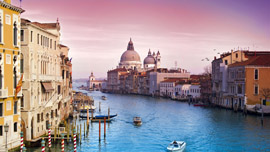 One of the best places to visit in Italy, Venice is a unique city in that is built upon a lagoon surrounded by the Adriatic Sea. Located in northeastern Italy, Venice is an archipelago of 118 islands all connected by hundreds of beautiful bridges and scenic canals. Of the canals, the Grand Canal is most famous and divides the city into two sections. Picturesque waterways and historic architecture make Venice one of the most romantic cities in the world.

Florence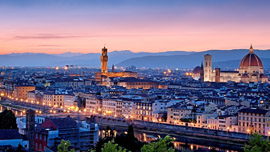 The capital of Tuscany, Florence is often described as a colossal outdoor museum because of its mass of art and architectural treasures. Florence's hoard of art masterpieces are found all over the city, contained within the large numbers of museums, stunning churches, like the domed Santa Maria del Fiore, and internationally esteemed art galleries like the Ufizzi and Pitti Palace.

Milan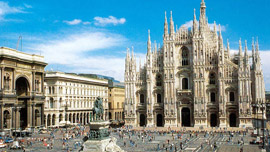 Nearly destroyed from heavy bombing during WWII, Milan has since reconstructed and now shines as one of the wealthiest cities in Europe. Widely regarded as a mega fashion center teeming in designer shops, Milan also attracts many to its surviving world famous treasures like Leonardo da Vinci's painting, The Last Supper, the La Scala Opera House, the Castello Sforzesco and one of the world's largest Gothic cathedral.

Amalfi Coast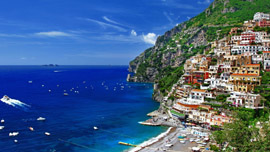 Situated in Italy's southwestern region of Campania, the Amalfi Coast is known for its extraordinary beauty that makes it one of Italy's top tourist destinations. Stretching 30 miles along the southern side of the Sorrento Peninsula, the Amalfi Coast is prized for its picturesque coastline that features shimmering bays, craggy cliffs, lemon tree gardens, multicolored villas and ritzy resorts.

Cinque Terre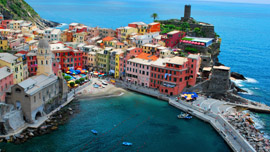 Meaning "Five Lands," Cinque Terre comprises the five villages of Riomaggiore, Manarola, Vernazza, Monterosso and Corniglia. Located in Italy's northwestern coastal region of Liguria, the villages of Cinque Terre feature some of the country's most beautiful landscapes that include steep cliff sides and wine terraces dating back to hundreds of years.

Siena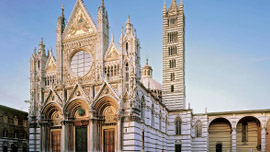 Established upon three hills in the heart of Tuscany, Siena offers tourists a step back into the Middle Ages with its well-preserved historic center and medieval horse racing tradition, known as Il Palio. The historic center of Siena is one of the most popular places to visit in Italy as it still retains many of its stunning works of art and architecture from that time period.

Naples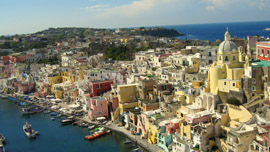 One of the busiest metropolitan cities in the country, Naples is the capital of the Campania region in Southern Italy. The city of Naples offers a treasure trove of art works and historic sites as well as a vibrant atmosphere of shops, restaurants and nightlife venues. Many favorite Italian foods originated from here such as pizza, spaghetti and parmigiana. These dishes are taken seriously in Naples and usually feature fresh, locally grown ingredients.

Pisa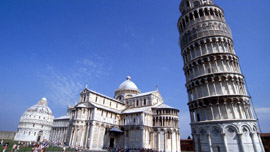 Located along the Arno River in the northwestern region of Tuscany, the city of Pisa still bears the striking remnants of its former golden days as a commercial empire during the Middle Ages. While Pisa is best known for its famous Leaning Tower, there a lot more attractions in this city worth a visit.

Genoa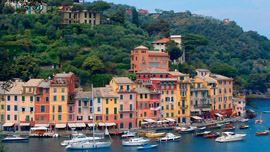 Sometimes overshadowed by the popularity of world famous cities like Rome and Venice, Genoa nevertheless is one of Italy's true hidden gems. Genoa is a classic Italian city incorporated amid rolling hills with houses of pastel colors and terra cotta roofs all mixed in with stunning churches, hanging gardens, Baroque palaces and crumbling Roman ruins. The city's shining crown is its historic center, which features narrow, winding streets that reveal surprising gems at every turn.
---