Attractive Tourist Places
Connaught Place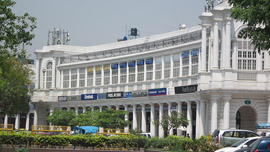 Connaught Place is the commercial hub of New Delhi, which is popular among tourists for shopping. Of the two circles of Connaught Place, Inner Circle has numerous international brands, restaurants, eateries and bars and bookshops. The place is also popular for buying handicraft items from the nearby location, Janpath. There is also a central park, located at the centre of Connaught Place, which offers a beautiful environment.

Chandni Chowk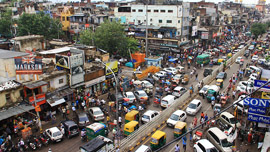 Chandni Chowk is considered as one of the oldest and busiest, wholesale and retail markets in North Delhi. It is situated in the Shahjahanabad. It houses many temples like Shri Digambar Jain Lal Mandir and Hindu Gauri Shankar Temple. Apart from these temples, it also has a Gurudwara namely Gurudwara Sis Ganj Sahib. There exist 2 mosques in this place, namely Muslim Sunehri Masjid and Muslim Fatehpuri Masjid. Chandni Chowk is famous all over in India for its eating joints and some of these are very old.

Jama Masjid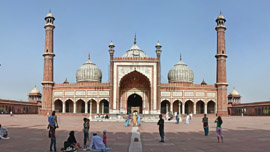 Jama Masjid was commissioned by the Mughal Emperor Shah Jahan which is considered to be one of the biggest mosques in Old Delhi. The floor of the mosque has been totally covered with white and black marbles that give the look of prayer mat as in Mohammedan culture. The outer courtyard of this mosque can hold around 25,000 people at a time. This mosque was constructed with the efforts of more than 5,000 workers, over a period of 7 years in 1628.

India Gate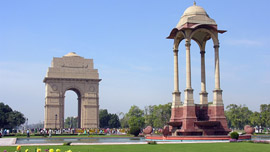 India Gate is situated on the Raj Path for paying reverence to the Indian Soldiers, who died during the First World War. The huge walls of India Gate reveal more than 90,000 names of the soldiers who lost their lives during the war. At the base of this structure, there is an eternal flame called 'Amar Jawan Jyoti', which pays tribute to the soldiers who died during the Indian Independence. There is also a boat club and children's park near India Gate that are situated on Rajpath.

Jantar Mantar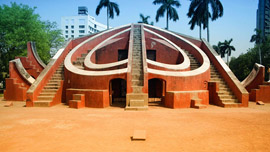 Jantar Mantar is situated in the heart of the city near Connaught Place. This monument was built in 1724 and has some of old-fashioned structures that are instruments for tracking the movement of celestial bodies. These instruments are useful for measuring the position of stars, azimuth, altitude and calculation of eclipses. There is a Samrat Yantra at this site which reflects the accurate time within four minutes. The instrument named Jai Prakash is used for analysing the position of the sun and other heavenly bodies.

Lotus Temple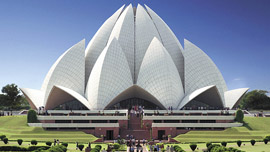 Lotus Temple is situated near Kalkaji in Delhi which is the only Bahai Temple in Asia. This temple was designed by Fariborz Sahba, which has a half floating lotus as the main structure along with white petals made of marble. It measures around 35 m in height and is located amidst 9 pools and huge lawns. There is a big prayer hall inside this temple which is used by the devotees for meditation.

Qutub Minar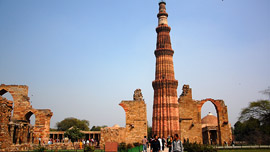 Qutb Minar is one of the tallest individual towers in the world, measuring about 234 ft in height. It is an ideal example of Indo-Islamic architecture style. This place also has a 7 m high iron pillar, which has not shown any sign of rust for more than 1,600 years. ravellers can also come across some other famous monuments like Ala-i-Darwaza and Ala-i-Minar situated within the complex.

Red Fort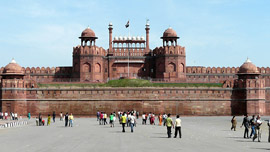 Red Fort which is also known as Lal Qila was built by the Mughal Emperor, Shah Jahan. This monument represents the grandeur of the Mughal Court. This fort has various structures including Diwan-i-Aam, Diwan-i-Khas, Nahr-i-Behisht, Zenana, Mumtaz Mahal, Moti Masjid and Hayat Bakhsh Bagh. Red Fort also houses a famous Swatantra Sangrama Sangrahalaya or the Museum of the Independence Movement. There is also a Daawat Khana in Red Fort, which has been converted into a Tea House, where tourists can have tea and snacks.

Mumtaz Mahal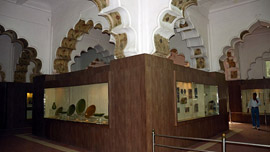 Mumtaz Mahal is also known as Jewel Palace which is situated within the Lal Qila complex, inside the Rang Mahal. This mahal has been constructed using red sandstone for Arjumand Banu Begum, who was popularly known as Mumtaz Mahal. This palace is now a museum which displays numerous historical artefacts that are arranged in six different galleries. It also has some of the important objects related to Emperor Akbar and the other Mughal rulers. Tourists can also see few manuscripts, royal orders, miniature paintings, stone inscriptions, daggers, swords and royal costumes.

Rashtrapati Bhavan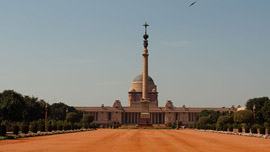 Rashtrapati Bhavan is the official residence of the President of India, which is situated towards the west end of the Rajpath. It is a blend of both Mughal and European architectural styles with a copper dome and around 340 bedecked rooms. This place is also famous for its Mughal Gardens. This structure has a neo-Buddhist copper dome along with a circular hall, known as the Durbar Hall.

Humayun's Tomb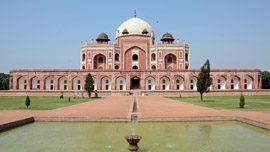 Humayun's Tomb is the famous tomb of Humayun, who was the Mughal Emperor. The entire structure is built using red sandstone, which was declared as a UNESCO World Heritage Site in 1993. There is a huge garden in the complex, which has fountains, pools, trees and benches to sit. Tourists can also see the Char Bagh inside the complex which have quadrilateral Persian style layout. Babar's Tomb is also situated near the main tomb of Humayun inside the complex.
---