Attractive Tourist Places
Ooty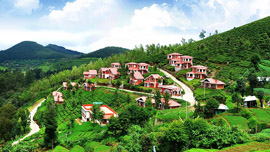 The natural surroundings of Ooty include landscapes, dense forest reserves and national parks. This hill station is popular for its tea farming as well as oil extraction industry, wherein the oil is obtained from its eucalyptus trees, lemon grass, geranium, clove and camphor. A major attraction is the mountain train journey to Ooty on a ratchet and pinion track and passes through steep curves and long tunnels along deep ravines full of green vegetation, streams and tea gardens. The Ooty Lake is a major attraction of the hill station and is popular for boating. Another famous attraction includes the Government Museum, which contains the history of the Nilgiri District. Other popular tourist attractions of Ooty include the Deer Park, Mudumalai Wildlife Sanctuary, the Rose Garden, Ooty Botanical Garden, the Stone House, etc.

Kodaikanal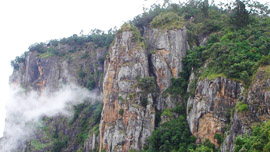 Nestled between the Parappar and Gundar Valleys, Kodaikanal is situated on a plateau above the southern escarpment of the upper Palani Hills. Some of the prominent attractions of Kodaikanal include Coaker's Walk, Bryant's Park, Bear Shola Falls apart from the lake which is the main focus. Besides being a famous tourist destination, Kodaikanal is also known for eucalyptus oil, plums, homemade chocolates and pears. In addition, the place is also famous for the Kurinji, the flowers that blossom only once in twelve years.

Chennai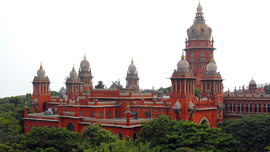 Chennai is famous for its temples and churches which are considered as fine examples of architecture and craftsmanship. Parthasarathy Temple, Kaapaleshwar temple, Ashtalakshmi temple, Santhome Cathedral Basilica, Velankanni Church, etc. are some of the famous religious attractions in Chennai. Chennai is home to one of the longest urban beaches in the world, Marina Beach, which is 12 km long.

Yercaud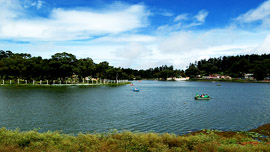 Yercaud, a hill station in Salem District of Tamil Nadu, is located in the Shevaroy range of hills in the Eastern Ghats. It is perched at an altitude of 1,515 metres above sea level and encompasses an area of 382.67 square kilometres, including the Reserve Forest. This city is popular for oranges and coffee plantations. Many other fruits and spices were cultivated on the coffee estate in Yercaud such as jackfruit, oranges and guava and black pepper and cardamom.

Kanyakumari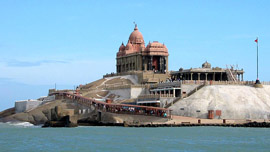 Kanyakumari is called as 'Cape Comorin'. The town lies at the point where the Arabian Sea, the Gulf of Mannar and the Indian Ocean merge with each other. Attractions in Kanyakumari include the Padmanabhapuram Palace, Pechiparai Reservoir, Vattakottai Fort, Vivekananda Rock Memorial, Thiruvalluvar Statue, Mathur Hanging Trough, and Udayagiri Fort among others. The popular religious places in the region include Lord Subramanya Temple, Tiruchendur Temple, Gandhi Mandapam, Kumari Amman Temple, Swamithoppe Suchindram, St Xavier's Church, Nagaraja Temple and Thirunandhikarai Cave Temple.

Yelagiri Hills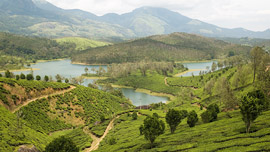 The Yelagiri Hills lies between four mountains, at an elevation of 920 m above sea level. Orchards, rose gardens and green valleys, surround these hills. The highest point at Yelagiri is the Swamimalai Hill, which is a popular destination for trekkers with plenty of trekking trails passing through thick reserved forests. The Punganur Lake is a manmade lake and one of the popular attractions of the region. The telescope observatory located near these hills along with the Jalagamparai Waterfalls is other attractions.

Rameshwaram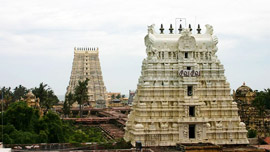 Rameswaram is the holiest pilgrimage place for the Hindus. It falls in the Gulf of Mannar and is a peninsula. According to the Hindu mythology, this is the place where Lord Rama created a bridge across the sea to Sri Lanka. Lord Shiva too is worshipped in this place. It's a place where Ravana was killed and hence it has a great historical foundation. Rameswaram has several wonderful temples. The place has highest number of wells.

Mudumalai (Masinagudi)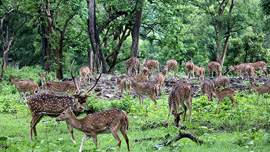 Located in dense forests of the Nilgiris, this place is renowned for its wildlife sanctuary. The main characteristics of this sanctuary are the swamps, evergreen forests, grasslands and a wide variety of wildlife. The distinct wildlife here includes species like gaur, tigers, deer, panther, hyena, jackal, chital, sloth bear, flying squirrel, leopard, sambar, wild boar, civets, monitor lizards, langurs, antelopes and macaques. Apart from animals, bird species found at Mudumalai are more than 200 in number. The sanctuary is also home to a diverse range of plant life. The tiger reserve at Mudumalai has the highest density of tigers found in the country.

Velankanni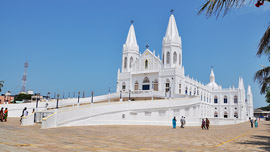 The most significant place at Velankanni is the Shrine of Virgin Mary which is dedicated to the Madonna of Velankanni often called Sacred Arogya Matha Church.The church has been constructed intricately and displays an exquisite facade with many large spires and wings that are created in the appearance of a cross. In the alter, nestles the statue enshrined as Our Lady of Health. Vellayar, a small protruding of Cauvery River runs to the south of this town.

Madurai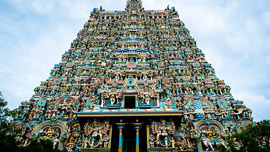 Madurai is called as the Temple City. Madurai is known to have a mix of cultures and religion, which is evident from the presence of many religious structures belonging Hinduism, Islam and Christianity. Some of the important religious structures of Madurai, which also serve as tourist places, are Goripalayam Dargah, Meenakshi-Sundreswar Temple and St. Mary's Cathedral Church. Gandhi Museum is another tourist attraction of Madurai.

Coonoor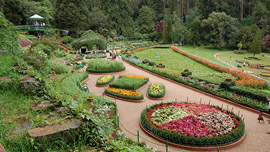 Coonoor, a small hill station in the Nilgiri ranges provides opportunity for sightseeing, recreation and excursions in plenty. The major attraction of Coonoor is Sim's Park, a well maintained botanical garden featuring contrasting varieties of flowers, blooming throughout the year. Along with rich flora, varieties of wild flowers and birdlife, the destination provides ample opportunities to engage in trekking and hiking. Some other well known tourist spots are Lamb's Rock, Laws falls and The Dolphin Nose Viewpoint. There are tea gardens with sparkling vegetation in the terraced farms of the Nilgiri ranges.

Mahabalipuram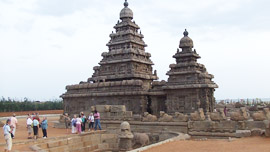 Mahabalipuram is known for its historical monuments, sculptures, scenic beauty, culture and tradition. It has temples made out of a single rock, temples of different structures and artistic bas-reliefs, which is the largest in the world. Mahabalipuram has two low hills whose either sides have excavates temples called Mandapas. It has unique architecture with different sculptures (Nandi, Lion and Elephant), rathas (cut out temples) and a palace.

Coimbatore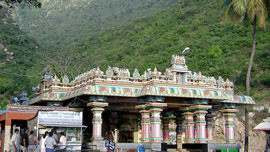 Coimbatore is located on the banks of the Noyyal River because of which, it is also known as Koneyammanputhhur, signifying the 'birth place of the Goddess'. Some of the most popular religious places in this city include Marudhamalai Hill Temple, Ayyappan Temple, Islam Safia Jamath Mosque, Dhyanalinga Yogic Temple, St Antony's Church, Lord Ganesha Temple, Infant Jesus Church, Ramar Temple, Anubhavi Subramaniar Temple, etc. Some other interesting places to visit include Bhavani Sagar Dam, Black Thunder, Kovai Kondattam, Siruvani Falls and Dam, Thirumoorthi Dam, Aazhiyaar Dam (Aaleeyaar Dam), Amaravathi Dam, Sozhaiyaar (Solaiyaar) Dam, Monkey Falls, Kodiveri Dam, Vydehi Falls and Kovai Kutralam Falls.
---