Attractive Tourist Places
Munnar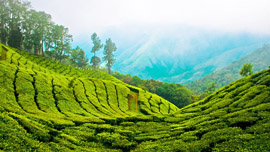 Munnar is an idyllic tourist destination with rolling hills, grasslands, dense forests, brooks and rivulets, diverse flora and fauna, numerous waterfalls, lakes, tea plantations and walking trails. Some of the major attractions of the region are CSI Church - the landmark of Munnar, Eravikulam National Park, Attukal Waterfalls, Elephant Lake etc. Because of its scenic beauty and pleasant climate Munnar has become a popular destination for honeymoons as well as weekend getaways.

Wayanad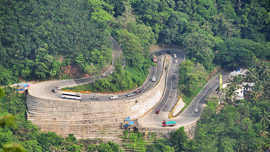 Wayanad, which is also known as the 'green paradise' lies in between the mountains of the Western Ghats. Wayanad is a popular tourist destination in Kerala with numerous attractions such as Chembra Peak, Edakkal Cave, Kuruva Island and Lakkidi. Muthanga Wildlife Sanctuary, Pakshipathalam, Pazhassi Raja Tomb, Pookot Lake, Sentinel Rock Waterfalls, Kanthanpara Waterfalls, Soochippara Waterfalls and the Banasura Sagar Dam are other places of interest.

Kochi (Cochin)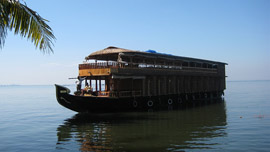 Kochi is one of the seven taluks of Ernakulam district in the state of Kerala. Kochi straddled by the backwaters, it is bordered by the Arabian Sea in the west and urbanised region in the east. Fort Kochi, Bolghatty Palace and the backwaters are major highlights of the city. The city also has a strong inclination towards the arts and tourists visiting Kochi can visit places like the Kerala Folklore Theatre where people can watch plays or even spend time at the museum. Also Kochi is known for its Ayurvedic centres.

Kovalam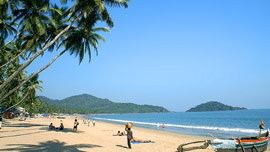 Kovalam consists of crescent shaped sandy beaches. The three beaches of Kovalam – Lighthouse Beach, Samudra Beach, and Hawa Beach (Eve's beach) – are separated from each other by rocky shores. A shallow-water-stretch that extends to about 1 km from the land makes it ideal for swimming. All the beaches have steep coconut-palm fringed highlands and shining sandy beaches that contain a great amount of minerals like ilmenite and thoracite.

Alappuzha (Alleppey)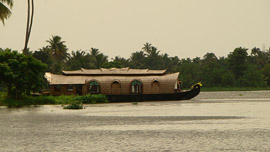 Alappuzha the 'Venice of the East' is famous for its backwaters and also has other attractions such as temples, churches and lakes. Another highlight of the region is Karumadi, which is located at a distance of 3 km from Alappuzha. There is a black granite statue of Lord Buddha known as Karumadi Kuttan. Other tourist places in Alappuzha include the Pandavan Rock, Mullakkal Rajeshwari Temple, Chettikulangara Bhagavathy Temple, St. Andrew's Church, St Sebastian's Church and Champakulam Church.

Thekkady (Periyar)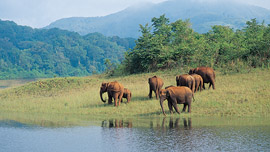 Thekkady is the place where the Periyar National Park is located, which is home to thick evergreen forests, deciduous forests and a host of animal species, viz. elephants, sambar, tigers, Nilgiri Langurs, etc. The Mullaiperiyar Dam has been built across the Periyar River here, resulting in the formation of an artificial lake, which adds to the scenic beauty of the place. Thekkady is also known for its natural spices which are found in abundance here in the form of clove, cardamom, cinnamon and black pepper.

Kumarakom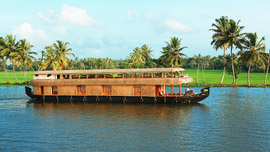 Kumarakom an ideal place to experience the backwaters of Kerala, is actually a cluster of islands close to the city of Kottayam. It is situated near the Vembanad Lake. The tropical climate of Kumarakom makes it conducive to a lot of varied cultivation. The place abounds in tropical fruits like banana, mango and pineapple. There are also plenty of mangroves, coconut palms and paddy fields, along with plantations of coffee and cocoa. Kumarakom is perhaps the only place in India other than Kashmir, which is known for its houseboat experience.

Thiruvananthapuram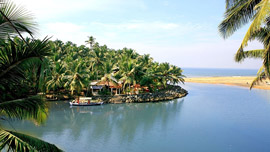 Thiruvananthapuram or Trivandrum is the capital of Kerala. Thiruvananthapuram also has historic monuments, backwaters, beaches and wildlife sanctuaries. Tourists visiting the city can also plan excursions to Tripparappu Waterfalls, Thiruvattar, Padmanabhapuram, Courtallam, Sabarimala, Thekkady, etc. Activities like river rafting, canoeing and trekking can be done.

Kumily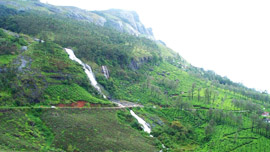 It is a famous tourist place, which attracts large number of travellers, owing to its natural beauty and rustic appeal of its markets. Apart from the markets, Periyar Wildlife and Tiger Sanctuary and Abraham's Spice Garden are the two most prominent attractions of Kumily. For adventure lovers, Kumily is one of the ideal locations for trekking. In addition to trekking, tourists visiting the destination can also enjoy boat cruises.

Kollam (Quilon)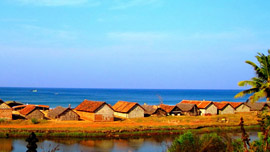 This popular tourist destination is the capital of erstwhile Venad and forms the southern gateway of the Kerala backwaters. The boat rides through the backwaters of Kollam are the most popular attraction. The Ashtamudi Lake surrounds the Kollam town. Another popular attraction is the Thangassery Light House, which is 144 feet high and was built in 1902. Ananda Valleswaram Temple, Mahatma Gandhi at Kochupilamoodu, Thirumullavaram Beach and Ashramam Picnic Village are other popular places.
---