Attractive Tourist Places
Puri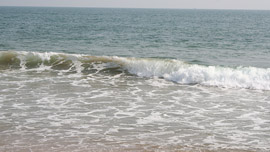 The city of Puri is known for its historic immemorial, sanctorum, architectural magnificence, balanced climate and divine significance. Counted among the most sacred pilgrim centres for Hindus in India, the destination is a seat of Lord of Universe, Jagannath, as per testimony of Skanda Purana. Honoured with the famous Jagannath shrine, the spiritual city is also known as Jagannath Puri.

Konark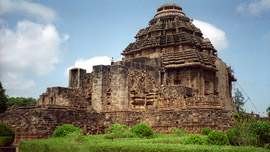 Konark is a small town in Puri district in the state of Orissa. Konark translates as 'Essence of the Corners'. Konark is famous for the Sun Temple, a World Heritage Site, which was built in the 13th century. It is an ancient place which was once ruled by the Eastern Ganga Dynasty.

Chilika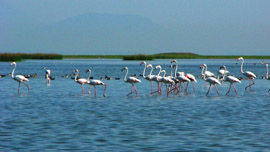 Chilika Lake is another great destination to visit. This lake is Asia's largest salt water lagoon. Situated near the Bay of Bengal, this lake is separated from the sea by only a small neck like piece of land. This is a favorite migratory spot for a numerous birds during winter.

Gopalpur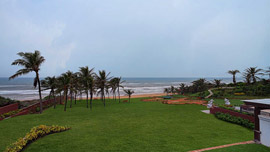 Gopalpur, also known as Gopalpur-on-sea, is a beautiful and quiet beach destination situated in the Bay of Bengal in Orissa. As per folklore, the region got the name Gopalpur in the 18th century from the temple of Lord Gopala (Krishna) built near the sea shore. Gopalpur town has a historic past buzzing with maritime activities which can be dated to the period of Kalinga Dynasty.

Chandipur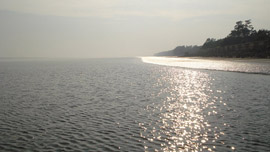 Chandipur is a popular beach town in Orissa. It lies near the Bay of Bengal. It has an elevation of 3 m above sea level. The popular seafood, Horseshoe crab is also found on this beach towards Mirzapur. The speciality of this beach is that the water tides here recede from 1 to 5 km during the ebb, and return only when high tides return to the beach. This phenomenon is visible here twice a day after which, a trail of shells and driftwood are left behind.

Bhubaneswar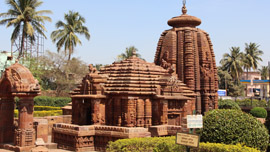 The capital of the east Indian State of Orissa, Bhubaneswar is a thriving centre of art and culture. Historically the city was known by several different names such as Nagar Kalinga, Ekamra Kanan, Toshali, Kalinga Nagari, Mandira Malini Nagari and Ekamra Kshetra. With home to more than 600 temples, Bhubaneswar is often known as the Temple City of India. These temples represent the entire spectrum of Kalinga architecture. Besides temples, the destination is also known for its applique wok of Pipli, cane furniture, Ikat sarees and Birdi-wari.

Similipal National Park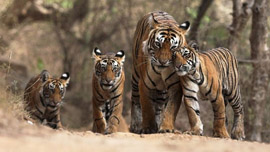 Simlipal National Park is a national park and an elephant reserve situated in the Mayurbhanj district in the Indian state of Odisha. Simlipal National Park derives its name from the abundance of Semul or red silk cotton trees that bloom abundantly in the locality. The park has an area of 845.70 square kilometres and has some beautiful waterfalls like Joranda and Barehipani. Simlipal is home to ninety-nine Royal Bengal Tigers, 432 Wild elephants. Besides Simlipal is famous for Gaurs (Indian Bisons), Chausingha, as well as an orchidarium.

Bhitarkanika National Park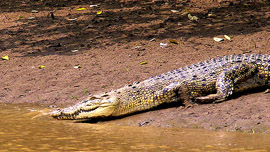 The land of lush green mangroves, migrating birds and turtles, the menacing estuarine crocodiles, meandering water courses, tranquil surrounding intercepted by the chirping of birds and the ever embracing nature, entrails visitors from near and far off places to flock these unique places of tourist importance. Bhitarkanika is a unique habitat of Mangrove Forests criss-crossed with numerous creeks and mud flats located in Kendrapara district of Orissa. One of the largest Mangrove Eco systems in India, Bhitarkanika is home to diverse flora and fauna.
---