Attractive Tourist Places
Mahabaleshwar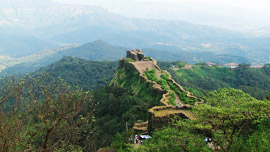 Mahabaleshwar is located in the Western Ghats range of India, which spreads from north to south along the Deccan Plateau. The hill station is at an elevation of 1,353 metres above sea level. Mahabaleshwar is famous for strawberries and mulberries. Tourists can enjoy 'strawberries with cream' and 'mulberries with cream'. Also, strawberry milkshake and vada pav made here is a must-try for tourists. The city also produces fresh jams and marmalades. Tourists can also buy fresh honey from the various bee farms in the city.

Matheran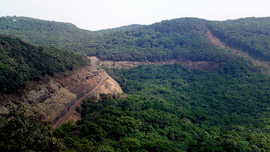 Matheran is situated on a plateau towards the western part of the Western Ghats. The plateau of Matheran, surrounded by the vast extensions of the ranges of Western Ghats, lies as an outlier to the main range of Western Ghats. Matheran tourism offers sightseeing attractions such as Porcupine Point, Panorama Point, Echo Point, Charlott Lake, King George Point, Louisa Point, Paymaster Park, Panthers' Caves, Hart Point, etc. Matheran also offer activities such as trekking, hiking, climbing, etc.

Mumbai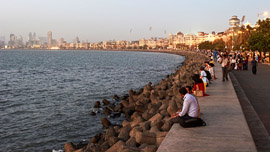 Mumbai is the capital of the western state of Maharashtra, built on an archipelago of seven islands, namely Bombay Island, Parel, Mazagaon, Mahim, Colaba, Worli and Old Woman's Island. The city is a natural harbour lying at the mouth of the Ulhas River on the west coast of India. Mumbai has a lot of structures, monuments, cultural centres that are a standing testimony to its rich history. It is also home to a number of gardens and a national park, which are must-visits for travellers visiting Mumbai.

Lonavala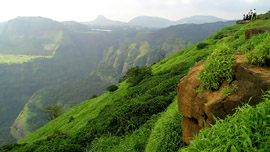 It lies 622 m above sea level in the Sahyadri Ranges, which separate the Deccan Plateau and the Konkan Coast. The Tungi Fort of Lonavala is one of its famous tourist spots. This fort is known for its natural strength. Apart from this fort, there are also many caves present around the city namely Karla Caves, Bhaja Caves and the Bedsa Caves. The place has valleys, hills, waterfalls and lush greenery due to which it is also called the 'Jewel of Sahyadri'. The city is popular for its sweet chikki.

Elephanta Caves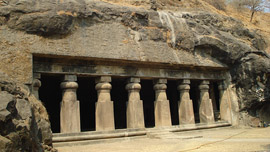 Declared as the World Heritage Site, Elephanta caves are situated on Elephanta Island in Mumbai harbor. The island has two groups of caves in the rock cut architectural style. Five caves situated on the western hills of the Island are devoted to the Hindu sect Shaiva and various Hindu sculptures are chiseled in these caves. In the second group of caves, various Buddhist architectures can be spotted depicting numerous pictures of Gautam Buddha and several sculptures from Buddhist literature, Jatak Kathayein.

Ajanta Caves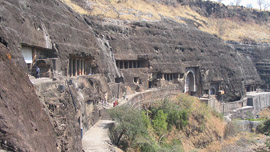 The Ajanta Caves are located 107 km away from Aurangabad city, just outside the village of Ajanta. This complex comprises 29 rock-cut cave monuments, which date back to around 2nd century BC. Nestled in the semi-arid Sahayadri Hills above the Waghur River, the caves at Ajanta are famous for beautiful paintings and sculptures that depict tales of Jatakas. Built using only hammer and chisel, these caves served as secluded retreats for Buddhist monks, who performed their rituals in the chaityas and viharas of these caves.

Ellora Caves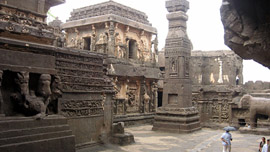 Located 30 km from the city of Aurangabad, the Ellora cave complex is an archaeological site. The cave complex comprises of 34 caves that were hewn out of solid rocks of the Charanandri Hills. Built between the 5th and 10th centuries, these caves are monasteries for Buddhists as well as temples for Hindus and Jains. A symbol of religious harmony of that time, the Ellora complex includes 12 Buddhist, 17 Hindu and 5 Jain caves.

Shirdi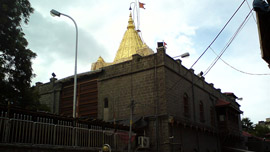 Shirdi, mostly known for the great saint Shirdi Sai Baba is a popular destination of pilgrims throughout the year. The Shirdi temple complex which is the main attraction of Shirdi covers an area of about 200 sq. m. The temple complex includes Khandoba, Gurusthan, Samadhi Mandir, Dwarkamai, Chavadi and Lendi Baug. Maruti Temple and Shani Temple, constructed under the supervision of Shirdi Sai Baba, are the other places of attraction in Shirdi.

Ganapatipule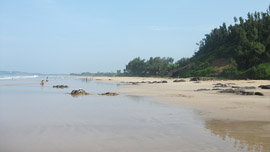 Ganpatipule is a small town lies in Ratnagiri District. Although pilgrimage forms the major tourist attraction of Ganpatipule, of late, a number of resorts have also come up here which has led to a major boost in the region's tourism. The town's location on the Konkan Coast makes it an ideal place for beach lovers. The beaches of Ganpatipule are clean and lined with mangroves and coconut palms. The climate of Ganpatipule, like most of Maharashtra, is moderate.

Pune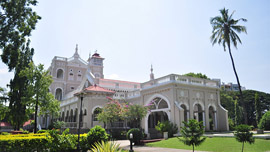 With a rich historical past, Pune has been a popular place for tourists since ancient times and still enjoys the same popularity. Educational institutions and corporate giants have made Pune a prosperous town. The city's cultural activities and places of interests for art lovers have made earned it a distinct popularity and image among people. Pune is truly a melting pot of varied cultures. Some places like the Shanivar Wada, Osho Ashram, Pataleshwar Cave Temple, Shinde Chhatri, Raja Dinkar Kelkar Museum, Bund Garden, Saras Bagh and Aga Khan Palace describe the most popular places amongst tourist visiting Pune.

Panchgani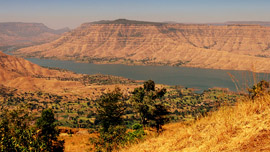 Panchgani is a well known tourist destination. Sydney Point is a well known tourist attraction of Panchgani. This is situated on a hillock facing the Krishna Valley. Table Land and Parsi Point are also famous for their scenic beauties. Kamalgadh Fort, Rajapuri Caves, Mapro Gardens, Dhoom Dam etc. are some of the major sightseeing options. The serene climate in the region has resulted in a number of health resorts.

Nashik Wineries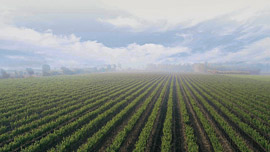 The popularity of wine in India has started growing rapidly. Along with it, India is also experiencing a boom in wine tourism. Many Indian vineyards now have tasting rooms, so wine enthusiasts can enjoy exploring India's wine regions. It's often possible to complete the experience by staying at at the vineyards. India's main wine region is Nashik, around four hours northeast of Mumbai, in Maharashtra.
---