Attractive Tourist Places
Port Blair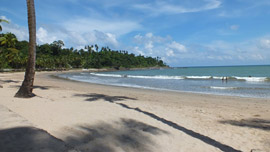 The town is located in the east coast of Southern Andaman Island and serves as the main gateway to enter the Andaman and Nicobar Islands. Tourists can have a glimpse of the tribal culture in the museums and the various cultural programs. Port Blair's rich history can be seen in some of its major attractions like Cellular Jail, Anthropological Museum, Ross Island, Gandhi Park etc. In Port Blair and Andaman and Nicobar Islands, tourists can visit the multitude of beaches, and islands. Activities like snorkelling and boating can be done in the region.

Havelock Island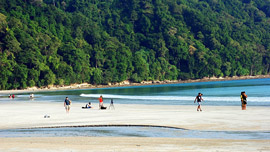 Havelock is a major tourist destination owing to its rich marine life, white sand beaches and dense evergreen forests. Havelock celebrates its rustic style and has earned a great place in the pages of the history of Indian Tourism. Some of the main attractions of Havelock Island are Vijay Nagar Beach and Radha Nagar Beach. Elephant Beach is famous for its coral reefs and rich aquatic life. Havelock Island is also a popular spot for activities like scuba diving, snorkelling, trekking, island camping, kayaking, sailing, etc.

Neil Island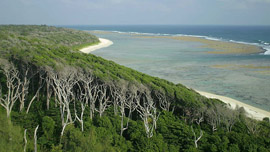 Neil Island, one of the isolated islands in the Andaman and Nicobar Islands, was once popular because of corals present here, but increase in fishing has led to a depletion of the corals. Opportunities for adventure sports like boating are also available on the island. The climate of Neil Island remains moderate throughout the year with average temperature ranging from 21°C to 31°C. On the western part of Neil Island, there are several beach houses and guesthouses for accommodation.

Ross Island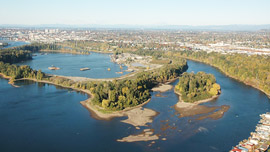 Ross-Island, once the administrative headquarters of Andaman and Nicobar Islands, is now a major tourist attraction. It still has structures from the colonial era, especially the Chief Commissioner's house, church, hospital, bakery, ballroom, tennis courts, officer messes, granaries and troop barracks. All the buildings are almost in ruins and represent British lifestyle. There is a graveyard and a small museum called Smritika. There is a church, now in ruins, and it represents British architecture.

Viper Island
Viper Island is located at the mouth of Port Blair's harbour and 20 minutes away from the Phoenix Bay jetty. This island is famous for its British Jail, which is accessible by boat. The jail still stands tall with its ochre-coloured remains. The island provides a glimpse of the colonial era. Besides its historical places, there are several picnic spots with natural environment over here. The island is covered with plenty of coconut plantations and trees.

Elephanta Beach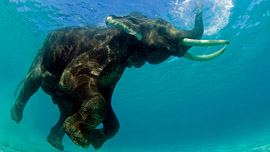 Elephanta Beach, located at a distance of around 10 km from the market, is one of the most popular beaches in Havelock Island for day trips. Reaching this beach is a hassle free affair as it is accessible either by 30 minutes hike on a jungle path or by opting for one hour boat ride. Known for its beautiful corals and exotic marine life, this beach is ideal for snorkelling.

Baratang
It can be said that this place is a conglomerate of the varieties nature can offer. Like every other place in Andaman Islands, it has a beautiful coastline that boasts of rich marine diversity. Some of the beaches are Baludera, Rogalchang, Nayadera etc. The road to Baratang from Port Blair passes through the Jarawa Tribe Reserve. Baratang is famous among tourists for Lime Stone caves and Mangrove Forests. These caves are located 50 minutes away by sea from the Baratang Jetty. Baratang also has an active mud volcano that squirts little fountains of mud. And if one has to experience the beauty of the sun setting over the ocean, it has to be done at Parrot Island.

North Bay Island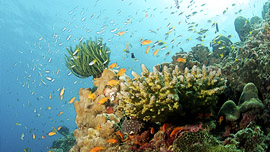 The beach around the island is very famous for under water corals. It is ideal place for scuba diving and snorkeling. Coral island with white sand beaches and surrounded by the pristine beauty of Nature. The sea has gifted this island with all the splendor to attract any sea loving human. The Coral reefs are gorgeously decorated by nature to stun the visitor.

Mount Harriet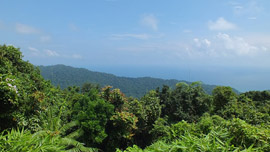 Mount Harriet, located in the southern part of Andaman and Nicobar Islands, has a height of around 365 metre. It is the highest point in South Andaman from where visitors can enjoy beautiful views of entire cluster of islands. In addition, tourists can also enjoy a natural trail available up to Madhuban, where variegated birds, animals and butterflies can be witnessed. The Mount is also home to a National Park, where tourists can enjoy wildlife tours. In addition, tourists can also come across elephants being trained in this national park for carrying logs.
---