Attractive Tourist Places
Milford Sound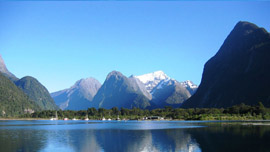 Milford Sound is among the most famous tourist attractions in New Zealand. Lying at the most northern and accessible end of Fiordland National Park, Milford sound offers some of the world's most staggering coastal scenery with its dramatic peaks and dark blue waters. The area's frequent downpours only enhance this South Island beauty, sending numerous waterfalls cascading down the cliffs.

Bay of Islands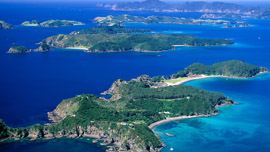 The Bay of Islands is one of the most popular holiday destinations in New Zealand. The picturesque area contains 144 islands, many secluded bays and some great sandy beaches. This beautiful bay has an abundance of marine life including whales, penguins, dolphins and the big marlin. Not surprisingly, it is a popular tourist spot for sailing yachts on world cruises and international sport fishermen.

Tongariro National Park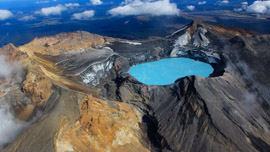 The first national park of New Zealand, Tongariro is known for its surprises and extremes. The park's diverse range of ecosystems includes tranquil lakes, active volcanoes, herb fields, untamed forests and desert-like plateaus. Start your trek at the Whakapapa Visitor Center, just a three hour hike from the stunning Taranaki Falls. The short hike will take you through scrubland and forest and across the lava line of volcanic eruptions from hundreds of years ago.

Rotorua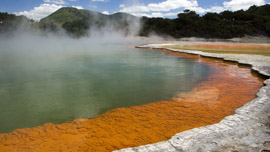 Rotorua is known as the thermal wonderland of New Zealand. There are numerous geysers and hot springs in and around the city. Many of these are in parks and reserves. Natural eruptions of steam, hot water and mud occasionally occur in new locations. Nearby Wai-O-Tapu is also a popular tourist attraction with many hot springs noted for their colorful appearance, in addition to the Lady Knox Geyser.

Franz Josef Glacier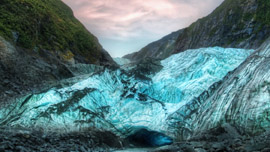 This glacier, located within Westland National Park in the southwest, is one of the world's most accessible. Visitors can walk right up to the foot of the massive glacier or take a helicopter ride over the dazzling Ice Age remnant. Together with Fox Glacier it is one of South Westland's major drawcards for tourists.

Kaikoura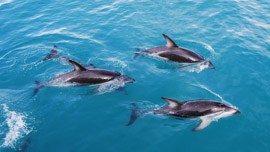 This small coastal town on the South Island is a haven for seafood lovers. You can spot fur seals, dolphins, sperm whales and albatrosses off the shore, then indulge in a feast of fresh crayfish, mussels, blue cod and more. Land lovers can take a wilderness walk through the untamed and dramatic Kaikoura forest.

Abel Tasman National Park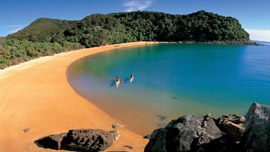 Located on the northern tip of the country's South Island, this vast national park is a hiker's dream. Closed to vehicles, one must enter by boat, foot or small plane, but the trip is well worth it. While traversing the mountainous terrain, blue penguins, wekas, oyster catchers, wood pigeons and other rare birds can all be seen.

Coromandel Peninsula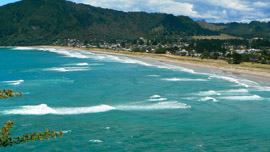 This north-eastern peninsula is famous for its white and golden sand beaches that frame magnificent coastal scenery, forests perfect for days of exploration and other natural wonders. Start your visit in Thames, a small but picturesque city with a rich history of gold mining. Don't miss a stop at Hot Water Beach, where visitors can dig their own hot pool from the springs under the sands.

Waitakere Beaches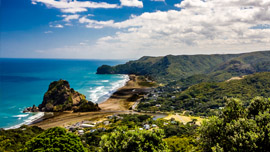 Waitakere is a western suburb of Auckland City, bordered on one side by the magnificent bush clad Waitakere ranges. There are many attractions and activities near to Waitakere, including Waitakere Ranges Regional Park, Whau River, Piha Beach and Muriwai Beach.

Golden Bay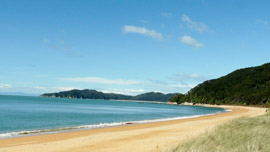 Golden Bay is New Zealand's most diverse and appealing holiday destination. Imagine a region with endless variety, where golden beaches, alpine valleys and tranquil fishing rivers share a close proximity with the sea. Breathtaking scenery, arts and crafts, sporting activities. There's something for everyone.
---