Attractive Tourist Places
Singapore Botanic Gardens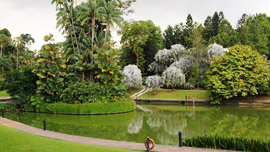 This national park in the middle of the hustle and bustle of Singapore is a welcome retreat for visitors and locals alike. A mixture of rainforest, lawns and ponds, the abundance of trees, shrubs and flowers is very peaceful and restful. Also part of the garden is the National Orchid Collection with 1000 orchid species and 2,000 hybrids.

Sentosa Island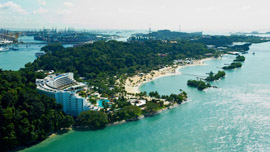 Sentosa Island includes three beaches, resorts, amusement parks, the Universal Studios theme park, the largest marine life park in the world and a casino. In addition, historic forts, nature walks and an amazing variety of foods: Chinese, Italian, French, Japanese and Australian can all be found. The Crane Dance at Resort World Senatosa is a major attraction as is the high-end shopping and excellent entertainment.

Singapore Zoo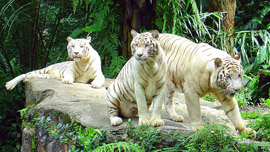 The Singapore Zoo features a much heralded after dark ride or walk through the zoo to view 1000 nocturnal animals in their natural habitats and a Creature of the Night Show. Daytime attractions include the world's largest collection of captive orangutan and shows that include Elephants at Work or Play, Splash Safari and Rainforest Fights Back.

Flight Experience Singapore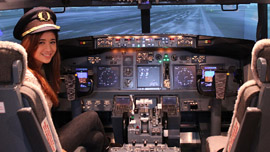 Virtually fly a plane to more than 20,000 worldwide airports, with a state of the art Boeing 737-800NG cockpit, fully curved 180-degree high definition visuals and high fidelity sound. A qualified instructor will give you as much or as little guidance you need. The glass enclosed Singapore flyer rotates on a massive Ferris wheel design to give you a 360-degree view of the country with breathtaking views of skylines and landscapes in the world's tallest observation tower.

Asian Civilisations Museum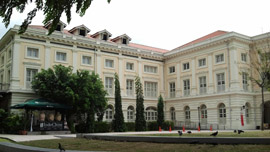 For a good overall view of Asian culture, this Museum includes artifacts from a wide range of countries from India to Vietnam and charts the cultural impacts of the beliefs and religions in Middle East, India, Indo-China, China, Japan, Korea and Malay. Housed in a beautiful 19th century structure, the museum's exhibits include a ninth-century Buddha and a Chinese snuffbox.

Thian Hock Keng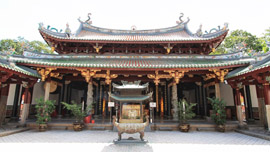 Thian Hock Keng is one of the oldest and most important Hokkien temple in Singapore. It was visited by Chinese immigrants giving thanks to Ma Zu (Goddess of the Sea) for their safe voyage. In 1839, under the leadership of Mr Tan Tock Seng and Mr Si Hoo Keh, the Hokkien clan built the temple in Telok Ayer Street. The temple was built in traditional southern Chinese architectural style. The entire structure was assembled without nails. It is an architectual masterpiece of stone, tiles and wood, dragons and phoenixes, amazing carvings, intricate sculptures and imposing columns.

Merlion Park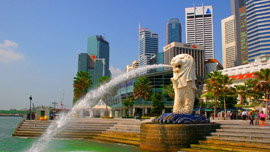 Merlion Park is located near Marina Bay, Singapore. This park is a popular Singapore tourist attraction. Two structures of the Merlion are located here and it is a major tourist attraction and a Singapore landmark. The park was first designed as an emblem for the Singapore Tourism Board (STB) in 1964, the lion head with a fish body resting on a crest of waves quickly became one of the well known images of Singapore.

Jurong Bird Park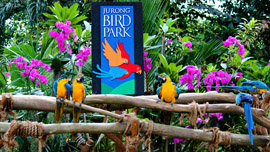 Jurong Bird Park not only houses 600 species of exotic birds, the comical parrot circus and the birds of prey in the King of the Skies show, it also include the Penguin Coast which is home to six varieties of penguins in an exhibit resembling a ship with both indoor and outdoor interactive exhibits.

Mount Faber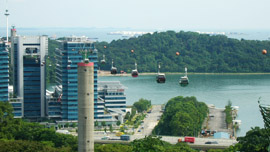 Enjoy a panoramic view of the Singapore skyline from a cable ride over Mount Faber or at a restaurant on the hilltop with a bird's eye view. Discover The Jewel Box and the beauty of nature at this serene getaway from the city.

Underwater World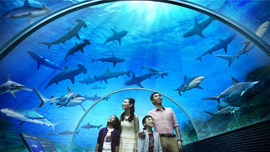 Underwater World Singapore is an incredible one-stop destination for the family – providing hours of fun, leisure and learning for all. Be thrilled no end by unique encounters with marine animals. Feed gentle rays and sharks, defy gravity feeding fishes through openings at the side of the MAGIC-T tank, spot masters of disguise like the amazing mimic octopus, allow giant isopods to crawl all around you and even tunnel under the sea on an 83m long voyage to the colourful Reef and Ocean Colonies!
---