Attractive Tourist Places
Kathmandu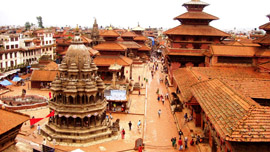 The capital and largest city of Nepal, Katmandu is located at 4,600 ft (1400 m) and is the gateway to most of Nepal's tourism. Don't miss Asan Tole, a popular bustling market; the Seto Machhendranath Temple, sacred to Hindus and Buddhists; and Maju Deval, a Shiva temple built in 1690 that offers great views and has become a popular meeting place.

Bhaktapur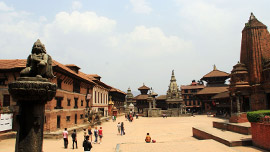 This traffic free UNESCO Heritage town is known for its cultural crafts and traditions. Time your visit for mid-April and you can celebrate Bisket Jatra (the Nepali New Year) in Bhaktapur, named by Lonely Planet as one of the world's best festivals. Bhaktapur is one of the sacred cities in the Kathmandu Valley.

Patan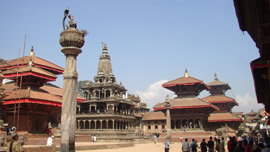 Known by art lovers for it's carvings of wood and stone, architecture, dozens of temples and monuments. The Palace of the Malla Kings and Patan Durbar Square are two of the highlights of a visit to Patan. Traditional carpets may be purchased at the Tibetan Refugee Camp on the edge of town.

Pokhara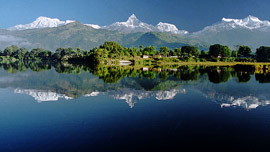 The end point for the Annapurna Circuit Trek is touristy but in a spectacular setting. There are lots of trails to follow but don't miss the World Peace Pagoda or the International Mountain Museum while you're there.

Lumbini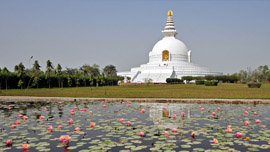 Beside being the center of reverence for Buddhist, Lumbini is also an evidence of ancient civilization. Marvelous excavation works have revitalized various edifices from before the time of Christ. The Modern Lumbini is 3 sq miles of planned area with Sacred Garden, Monastic Zone and Lumbini Village.

Chitwan National Park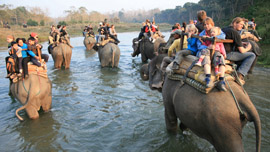 The protected area of Chitwan is glorified with diverse wildlife and exotic bird species for which Chitwan National Park is also recognized by UNESCO as Natural Heritage Site. A full board package based in safari lodges gives you chance to explore the jungle on elephant back, four wheel drive, guided jungle walk, canoe ride and more.

Upper Mustang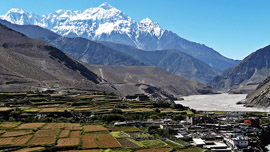 One of the outstanding in the list of must to visit places in Nepal is Mustang. Mustang is in the trans-Himalayan Region. Being part of Nepal, it survived the cultural revolution in 50es and is known as thumb in the eye of Tibet. One can find Tibetan Buddhism and other practices intact in the region.

Panch Pokhari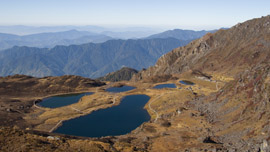 Panch Pokhari is Nepali for 'five lakes' at the base of Jungal Himal, which are considered to be holy and of religious importance. The trek to Panch Pokhari offers pristine mountain views, rich culture and genuine adventure combined with unsurpassed scenic beauty and biological diversity as you make your way to a group of high altitude lakes, sacred to both Buddhist and Hindu people.

Gosaikunda Lake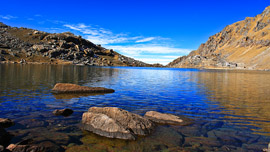 Situated inside the Nepal's Langtang National Park is an adventure travel destination that has been delineated as a religious site according to Hindu mythology. It is basically an alpine freshwater oligotrophic lake surrounded by spectacular mountainous view and is a significant place of interest in the Dhunche-Helambu trekking route.

Poon Hill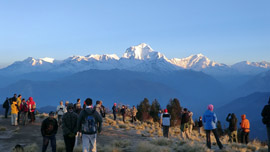 Poon hill is the view point in the Annapurna foothills that offer unobstructed and magnificent mountain views. The trail goes through patchwork valleys, dense mossy forests and past icy waterfalls where one can stop to cool off and rest. On the way to Poon hill around every corner is a tantalizing glimpse of the high mountains.
---