Attractive Tourist Places
The North Cape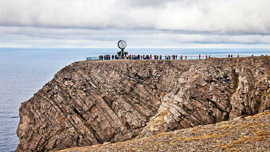 The North Cape is a monumental natural experience offering breathtaking views, unusual climatic conditions, the dramatic cliff itself...and of course the fact that one is standing at Europe's northern end. You'll find the North Cape in the region of Finnmark.

Geirangerfjord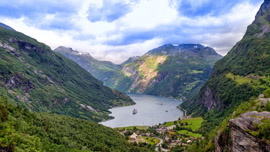 With its remarkable scenery of deep blue waters and majestic mountains, it is no wonder that the Geirangerfjord is among the most visited Norwegian fjords. When visiting here, a must-do is a sightseeing cruise on the fjord to view its astonishing beauty and its famous waterfalls, the Seven Sisters, which plunge directly into the fjord. Other exciting opportunities abound here as well like winter skiing, excellent fishing, canoeing and river rafting, and hiking trails that provide some of Norway's most dramatic views.

Sognefjord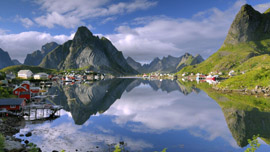 As Norway's largest fjord, Sognefjord also offers huge fun and adventure. Popular sightseeing options here include Norway's oldest stave church at Urnes, the Viking Village in Gudvangen, the Magic White Caves of Gudvangen, and the Aurlandsdalen Valley, which is often called Norway's Grand Canyon because of its vast beauty and wildlife diversity. Visitors here can choose from a wide range of exhilarating adventures like riding the world's steepest railway, the Flåm Railway, through snow-capped mountains and around cascading waterfalls. Other activities include hiking along scenic trails and cruising around the magnificent fjord and its many branches such as Nærøyfjord; the wildest and most beautiful branch of the Sognefjord.

Lysefjord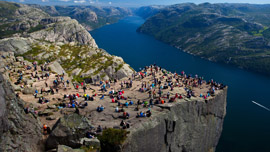 Although smaller in size than many other fjords in Norway, Lysefjorden attracts about 300,000 visitors annually. What makes this fjord so special is Preikestolen, or Pulpit Rock. Standing atop the wide, flat plateau of Pulpit Rock gives visitors an adrenaline rush like no other as they tower nearly 600 meters (2,000 feet) up in the open sky over the vast fjord. Kjerag Mountain is another spot favored here for its opportunities for photography, rock climbing and BASE jumping. The region of Lysefjorden also offers several interesting historic sites like the prehistoric rock carvings at Solbakk that date back to 500 BC. In Ryfylke, visitors can check out a reconstructed prehistoric settlement.

Hardangerfjord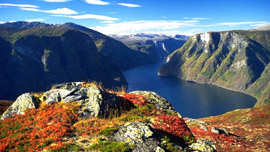 As the world's third largest fjord, Hardangerfjord is popularized by its vibrant region that is often called the Orchard of Norway because of its colorful fruit trees and gardens. Many travelers choose to visit here during May to see the blossoming of trees like apples, plums, cherries and pears. In addition to kayaking and boat cruising around the magnificent fjord, visitors can explore the surrounding region by scenic drives as well as hiking and cycling trails to see a number of natural wonders here such as Norway's most spectacular waterfall, the Vøringsfossen Waterfall. Other must-see formations include the massive Folgefonna Glacier and Trolltunga, a huge rock that extends straight out from a mountain, providing a natural scenic overlook.

Nordfjord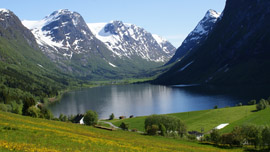 Located in western Norway, Nordfjord is favored for its perfect blend of incredible scenery, historic sites and wide range of fun activities. No matter what the season, Nordfjord offers plenty of things to see and do such as taking a boat cruise around the fjord itself to revel in its awe-inspiring beauty. Additionally, visitors can opt for excursions here like fishing, speed boating, water skiing, rafting and canoeing. In winter, visitors can enjoy snow skiing on the slopes and glaciers. The surrounding islands, mountains and woodlands can be explored by scenic drives and hiking tours to see sights like beautiful waterfalls, the ruins of a 12th century monastery and Norway's highest peak, Skåla. Nordfjord also offers glacier walks where visitors can view amazing ice formations.

Lofoten Islands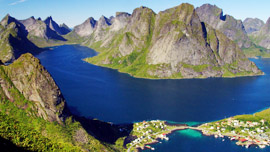 This archipelago of mountainous islands is located well within the Arctic Circle, and offers spectacular nature and history. Rugged mountains, white sand beaches, tranquil villages and row upon row of stockfish are some of the sights you can expect here. In winter time Lofoten is a great place to experience the northern lights, and in summer the islands have the midnight sun from late May until mid-July. The area is also one of the best places in the world for whale safaris as well as for spotting sea birds such as the majestic Sea Eagle.

The Vigeland Sculpture Park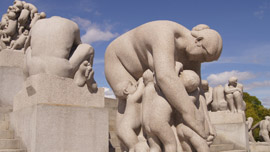 In the middle of Oslo you'll find the spectacular Vigeland sculpture park, which is the home of the life's work of Norwegian sculptor Gustav Vigeland. The most iconic sight in the park is the 17 metre tall Monolith, which consists of 121 naked bodies carved out in on single piece of granite rock. Another favourite is the small bronze sculpture named "Sinnataggen" (the angry boy), which would be easily missed if it weren't for the many people paying him a visit on the bridge in the park.

Kirkenes Snow Hotel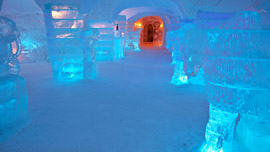 It's a truly beautiful place. Starting in mid-December, the Snow Hotel offers rooms called "Snow Suites". These 20+ guest rooms come with sleeping bags, mattresses, and - naturally - lots of art made of snow and ice. There is a Snow Bar where guests mingle, and if you're hungry, visit the (snow-free) restaurant. You'll also find a small sleeping area here in case you can't sleep in the Snow Suites.

Holmenkollen Ski Jump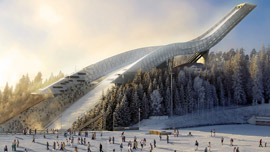 The Holmenkollen Ski Jump is Norway's most popular attraction for travelers. Holmenkollen hosts FIS World Cup ski competitions each year but is not just a sports venue; it is also a tourist magnet. There's lots of Norwegian ski history and a beautiful view of Oslo and the surrounding fjord.
---