Attractive Tourist Places
Bangkok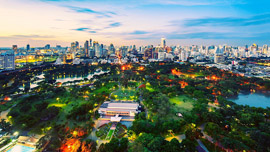 Thailand's capital city and by far the largest city in the country, Bangkok, is a buzzing cosmopolis of high rise buildings, magnificent palaces, ancient temples, glittering nightclubs, bustling markets and streets lined with vendors hawking souvenirs and tantalizing foods. While the city is sometimes described as a concrete jungle jam-packed with noisy traffic and air pollution, Bangkok is not without its natural beauty that is seen in its scenic canals, green spaces and flowering tropical plants.

Phuket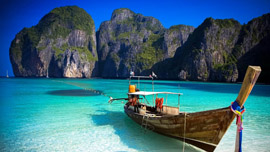 Known for its gorgeous beaches, excellent diving and an abundance of luxurious spas, Phuket is one of the popular places to visit in Thailand. Located in Southern Thailand, Phuket is the country's largest island, connected to the mainland by two bridges. Of Phuket's many attractions, the beaches are the main draw with their white sands, blue lagoons and water sports. With resorts, hotels, shops, restaurants and vibrant nightlife, Patong Beach is the most popular beach.

Pattaya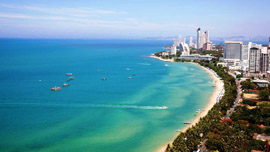 Pattaya is famous for its beaches and nightlife. It is one of the most popular tourist destinations in South East Asia. Pattaya has a wide range of shops and fashionable boutiques that sell garments, souvenirs, handicrafts, silk, gemstones, paintings, jewellery and others. The place has an active nightlife with entertainment places like coffee shops, karaoke bars and discotheques mostly in and around Central and South Pattaya.

Chiang Mai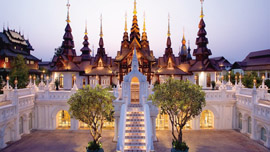 Surrounded by the mountains of northern Thailand, Chiang Mai is a flourishing city often used as a base among both backpackers and tourists wishing to explore the lush landscapes, hill tribes and outdoor adventures of the region. Nevertheless, Chiang Mai itself is a large and culturally important city where historical and modern Thai architecture and traditions coexist.

Kanchanaburi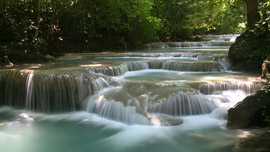 Located in western Thailand and admired for its beautiful scenery and accessibility to national parks and waterfalls, Kanchanaburi is best known for the Bridge over the River Kwaithat is linked with the historic Death Railway to Burma in which thousands of Asian laborers and POWS died during its construction under Japanese occupation during WWII.

Ayuthaya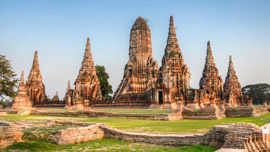 Founded in 1350, the city of Ayuthaya is located in the Chao Phraya River valley in Thailand. It sits on an island surrounded by three rivers connecting it to the Gulf of Siam. King U Thong proclaimed it the capital of his kingdom, the Ayuthaya Kingdom, better known as Siam. Once declared the most magnificent city on earth, the ruins of Ayuthaya are now a major attraction for those visiting Thailand. It is just 80 km (50 miles) north of Bangkok, and is easily reached by train, bus and van.

Khao Sok National Park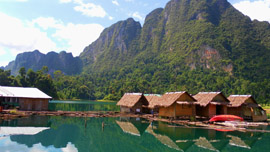 Considered by many to be one of Thailand's most beautiful wildlife reserves, the Khao Sok National Park covers jungle forests, limestone karsts, rivers and lakes in the Surat Thani province of southern Thailand. The reserve is home to wildlife such as Asian elephants, barking deer, wild boar, bears, Malayan tapirs and various monkeys breeds like gibbons, pig-tailed macaques and langurs.

Phanom Rung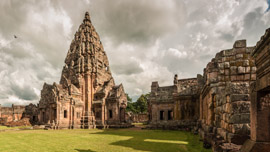 Sitting on an extinct volcano in northeastern Thailand, Phanom Rung is a Hindu shrine complex regarded for its outstanding architecture. Located near the village of Nang Rong, this temple sanctuary was built by the Khmer culture between the 10th and 13th centuries as a dedication to the Hindu god, Shiva. Constructed of sandstone and laterite, Phanom Rung was built to represent Mount Kailash, the sacred home of Shiva.

Sukhothai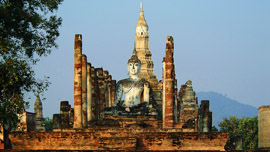 A small city in northern Thailand, Sukhothai is a popular tourist destination due to the nearby ruins of an ancient city by the same name. Historic Sukhothai was the first capital of Thailand, then Siam, during the 13th century. Today, the architectural structures and monuments of the old city are preserved within the Sukhothai Historical Park.

Pai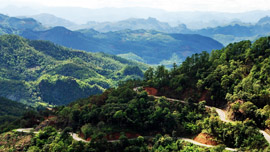 Once just a quiet village in northern Thailand, Pai is now a booming town that is part of the Mae Hong Son Loop stretching between Chiang Mai and Mae Hong Son. Noted for its picturesque valley and relaxed atmosphere, Pai is a favored destination among backpackers and tourists wishing to explore the region.
---