Attractive Tourist Places
Raipur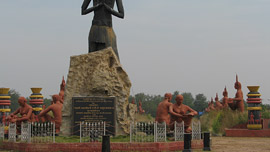 Raipur is the capital city of Chhattisgarh surrounded by River Mahanadi in the east and the Maikal Hill to the northwest. Some of the popular places to visit in Raipur are Mahant Ghasidas Memorial Park and the Hirakud Dam. Many tourist attractions are here like Mahant Ghasidas Museum, Guru Tegh Bahadur Museum, Mahakoshal Art Gallery, Sushilpikangan and Doodhadhari Monastery. Some popular religious places here include Mahamaya Temple, Budhapara Lake, Vivekananda Ashram, and Shadani Darbar.

Jagdalpur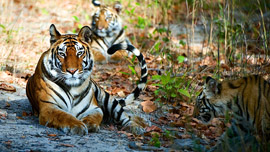 There is a mention of Jagdalpur in Valmiki's Ramayana, stating that Lord Rama passed through Dandakaranya. There is also an ancient ashram of sage Valmiki at this place. Maharaja Kamal Chandra Bhanj Deo, is the current king of Jagdalpur. The Rath Yatra of the king during Dussehra is the prime tourist attraction of the region. The Jagdalpur city is famous for its traditional wooden handicrafts. The major attractions are Chitrakot Waterfalls, Kailash and Kotumsar Caves and Tirathgarh Waterfalls. Visitors can also visit other places like Sri Venkateshwara Swami Temple, Bastar Palace, Anthropological Museum, Kanger Valley National Park and Ganga Munda & Dalpat Sagar Lakes. /p>

Bilaspur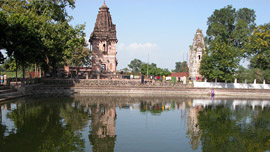 Bilaspur is located in the Chhattisgarh region in the Bilaspur District, India. It is the second-largest city in the state. The High Court of Chhattisgarh is located here. History says Bilaspur got its name from a fisherwoman by the name Bilasa in the 17th century, and for a long time only of a few fishermen's huts were there. In reality Bilaspur was a part of Kalchuri dynasty of Ratanpur. In 1908, weaving of tasar silk and cotton clothes were recorded as major industries of Bilaspur.

Durg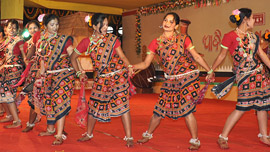 Durg used to be the part of southern Kosala and as per the epics; King Dasharatha married the princess of Kosala, Kosalaya. During the freedom struggle, Durg was visited by many popular personalities like Mahatma Gandhi, Jawaharlal Nehru and Dr. Rajendra Prasad. Durg has its own rich culture and heritage in the form of its local cuisine, dance forms like Pandwani, Soowa, Panthi and Raut Nacha. Some of the most popular tourist attractions in Durg include the Uwasaggaharam Parshwa Teerth and marble temple of Parshwanath.

Ambikapur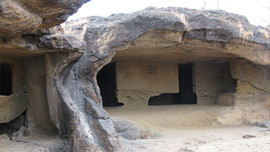 Ambikapur is famous for the ancient Mahamaya Temple. The majority of the terrain in the region is full of dense forests and hills. Korwas and Pandos are the two main tribal communities residing in this city. Tourists from across the world visit Ambikapur to see places like Deepadih, Tattapani, Somerset, Sita-Bengra and Deogarh, among others. Jogimara Caves and Ramgir Mountains are some of the best examples of the archaeological works in the region.

Bhilai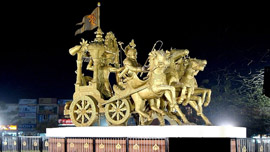 Bhilai is home to one of the largest steel plants in India, Bhilai Steel Plant (SAIL). Maitribagh is one of the famous attractions in Bhilai. It consists of Animal Park, Zoo and musical fountains. Next to the place is a huge manmade lake which is used to supply clean water to the town. Bhilai is home to numerous temples including Hanumanji temple in the Jawaharlal Nehru Memorial Hospital complex, Sidhi Vinayaka Temple, Balaji Temples, etc.

Kanker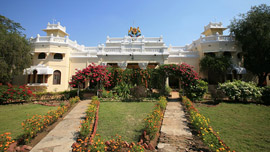 Early references of Kanker are made in the Ramayana and Mahabharata, which reveal that this independent state belonged to a dense forest named Dandakaranya. Currently, 50% of the total population of Kanker is tribal. The tribal society of this forestry district is renowned for their excellency in making beautiful handicrafts like wooden carvings, bell-metal items, terracota items and bamboo crafts. Other than festivals and handicrafts, Kanker district is popular among globetrotters for its various places of interest like Gadiya Mountain, Malanjhkudum Falls, Shivani Temple and Charre-Marre Falls.

Dantewada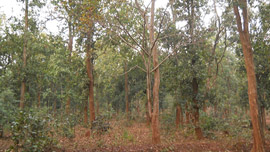 Known for its idyllic natural beauty, Dantewada District is a popular tourist destination and also a popular pilgrimage destination as the place is one among the 52 Shakti Peethas of the country. Dantewada District of Chhattisgarh is a place with rich cultural heritage and scenic beauty and is characterised by ancient monuments, waterfalls, caves, rock paintings and hills. Dantewada tourism also offers trekking expeditions to the scenic natural locations in and around the region.

Jashpur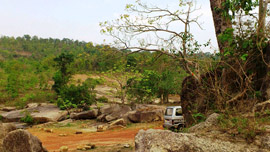 Being in a hilly district, Jashpur is dotted with several tourist sites such as Kotebira Eb River, Rajpuri Waterfall, Kailash Gupha, Danpuri Waterfall, Rani Dah Waterfall, Bhringraj Waterfall, Kunkuri Cathedral (Mahagirja Ghar), Damera, Khuriarani Cave, the Snake Park at Tapkara, Sograh Aghor Asram, Badalkhol Abhyaran, Gullu Waterfall, Churi Waterfall, Rani Jhoola, Bane Waterfall, Hara Deepa, Loro Ghatee and Bel Mahadev.

Baikunthpur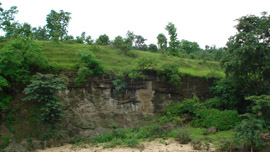 Baikunthpur is known for its rich deposits of coal, red oxide, limestone and fire clay. The surrounding forest has bamboo, gamhar, khair, shisam, sal, mahua, tendu and various other trees. Amrit Dhara Falls, Gavar Ghat Falls and Ramdhara Falls are the key tourist attractions near the main town of Baikunthpur. Akuri Nala is a popular picnic spot. Navakhai, Ganga Dusshera, Charta and Surhul are the major festivals celebrated in grand style in the region, which are an integral part of the tribal legacy of Baikunthpur.
---